While there are those who saw October and more so November spikes in real estate and housing estimates as the beginning of the something big, all the December 2017 statistics suggest nothing more than the easily anticipated hurricane anomalies. Housing construction was back in line with weaker earlier 2017 estimates (particularly starts), while resales were, too. Today we found that sales of newly constructed homes also pulled back last month after a run in November.
The prior month's big jump was revised to a seasonally-adjusted annual rate of 689k, well above the 599k posted in October. The estimate for December was 625k, just above the 6-month average.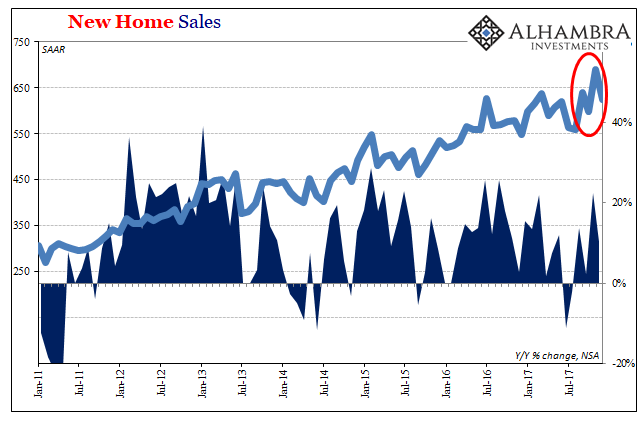 The November figure was widely hailed as some kind of meaningful milestone simply because it was the most sales since August 2017. The media loves to write stories that contain the phrase "highest in ten years."
This is not to say that the housing market isn't growing; it is. Nor is it exhibiting any warning signs that it is close or about to collapse; it isn't. The issue here is the same as it is for the overall economy, which is what matters as to whether November's increase was the start of something bigger, or an aberration leaving the real estate market in the same shape as before.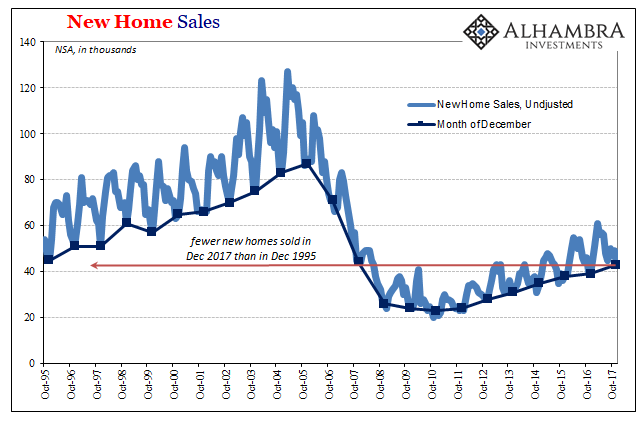 In other words, anything that has been written about home construction making it seem like a positive is totally overwhelmed by the chart above. In December 2017, the Census Bureau figures that 43k (unadjusted) newly built homes were sold across the United States. That's fewer than were turned over in December 1995 (45k), or December 1985 for that matter (47k).
As noted yesterday, there is a big problem in housing as it relates to the economy given this shrunken state. It's far too consistent with the non-full employment view of circumstances. If things are really improving as is always claimed and characterized, then home sales would be brisk, as would resales.
The latter are not because they are being held back by a serious and sustained reluctance of home owners to sell. What we find here in new home sales is that reticence is obviously shared among buyers, too, particularly at the lower end starter homes.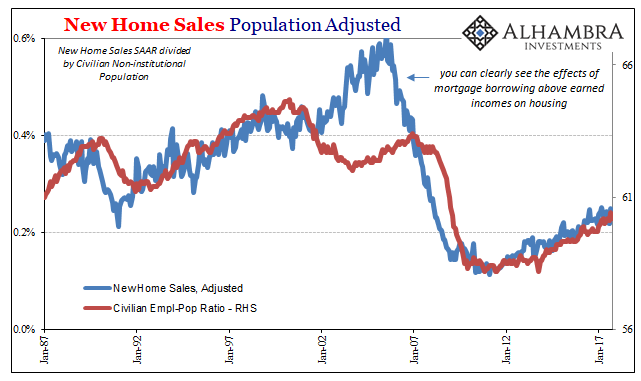 Like shrinking available-for-sale inventory, the permanently reduced market for new homes isn't really a mystery. If you ignore, as Economists do, the millions upon millions (as many as 16 or more) of Americans who don't count for the unemployment rate, none of this makes sense given the "exceptional" job market that one statistic might indicate. Factor them into your economic equation, however, and your interpretation, and therefore outlook, changes dramatically.
Given that, it wasn't ever very likely that October and November represented the start of something meaningfully different. That would have been just too far of a leap, to get to rapid growth finally after a decade of truly stunning shrinking and stagnation, and for what legitimate reason? In truth, it would have been a miracle, a verdict that I think will be applied to a lot more than the housing statistics in the months to come.